Easy Veggie Stir Fry (Vegan, Oil-Free, Gluten-free)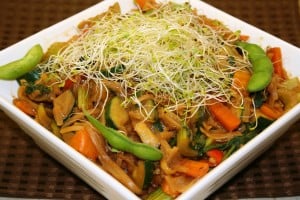 Recipe type:
Stir Fry, Main Course
8 ounces brown rice noodles
4 Tablespoons tamari sauce
4 Tablespoons orange juice
4 Tablespoons warm water
2 Tablespoons peanut butter (I used chunky and recommend smooth)
½ Teaspoon granulated garlic powder
½ Teaspoon ground ginger
1-2 Tablespoons sweet red chili (optional and to taste)
Salt to taste
½ cup mini carrots sliced into match sticks
½ onion diced
3 cups spinach
1 cup sliced celery
1 cup red and/or orange bell pepper, diced
1 zucchini sliced into ¼" slices and quartered
3 ounces bean sprouts or alfalfa sprouts
2 Tablespoons chopped raw peanuts
Lime wedges
Boil water and add the rice noodles. Turn off heat and let sit for 7-9 minutes, until tender. Drain.
In a small bowl, whisk together soy sauce, orange juice, warm water, peanut butter, garlic powder and ground ginger until smooth.
Taste and add salt and sweet red chili to taste.
Heat up a non-stick wok to high heat. Add in carrots and onions and stir fry for a few minutes, stirring very frequently. If you keep stirring you won't need any liquid and the veggies stay more firm and crisp.
Add spinach, celery, bell peppers, and zucchini. Add a few tablespoons of water to help the spinach steam and stir frequently until the spinach is wilted, usually about 3-4 minutes.
Add in the peanut sauce and the rice noodles.
Stir well to coat and cook for 2-3 minutes until everything is heated through.
Serve immediately and garnish each plate with bean sprouts, chopped raw peanuts, and a lime wedge.
If you pre-chop your veggies on the weekends like we do this goes even faster. We usually have diced onions, diced bell peppers, and diced celery on hand. All I had to do was quickly slice and quarter a zucchini, cut up the carrots and toss in a few handfuls of spinach.
Recipe by
Plantivores
at http://plantivores.com/quick-and-easy-veggie-stir-fry-vegan-oil-free/