Nutty Crunch Chocolate Vegan Granola Bars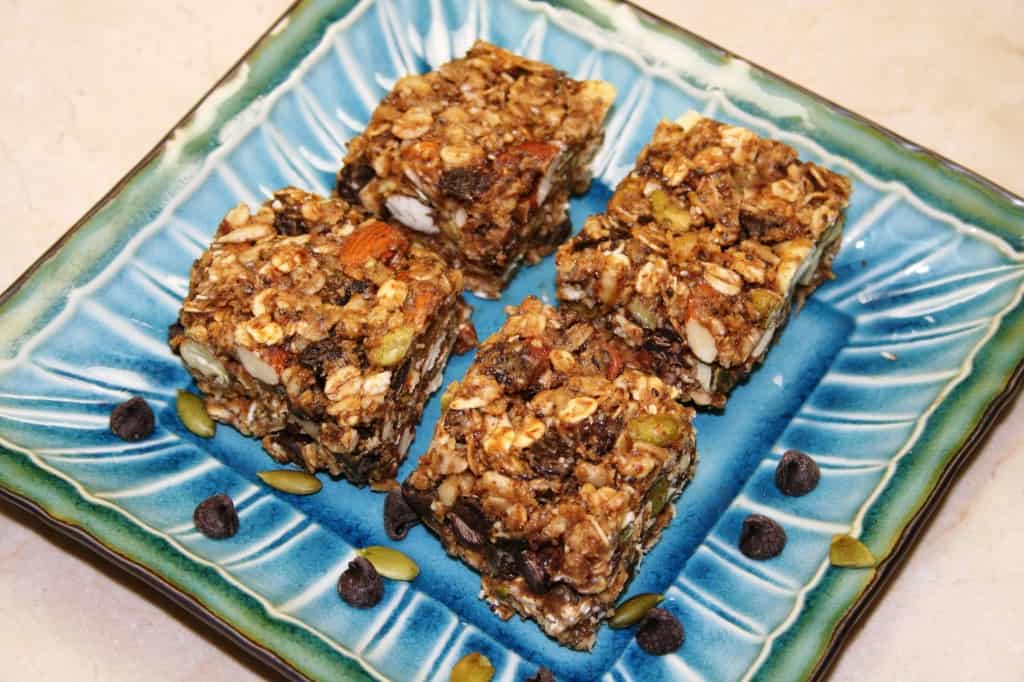 1 1/2 cups rolled oats (use gluten-free if desired)
1/4 cup flax-seed meal
1/8 cup chia seeds
1/4 cup sunflower seeds
1/3 cup pumpkin seeds
1/4 cup cashews
1/2 cup almonds
1/2 cup chopped walnuts
1/2 cup raisins
1/8 cup shredded coconut
1/2 cup vegan chocolate chips
1 tsp cinnamon
1/4 cup maple syrup
1/4 cup organic brown rice syrup
1/2 cup organic no-oil added almond butter (or nut butter of choice)
1/2 cup organic no-oil added sun butter
Add all dry ingredients (oats through cinnamon) to a large bowl and mix together.
Add maple syrup and brown rice syrup to a small bowl and stir until combined.
Add this mixture to the dry nut/seed mixture and stir until well combined.
Add almond butter and sun butter to the nut/seed mixture and stir until everything is combined.
Line an 8x8 baking dish with parchment paper, leaving some extra on each side to use as handles upon removal.
Pour the mixture into the baking dish and press down until it is evenly distributed.
Cover and put in the refrigerator for at least one hour or until firm.
Remove and use parchment handles to remove from the baking dish.
Cut into 16 bars and store in between parchment paper in the freezer or refrigerator.
Recipe by
Plantivores
at http://plantivores.com/nutty-crunch-chocolate-vegan-granola-bars/