Almond Chocolate Chip Cake with Orange Vanilla Icing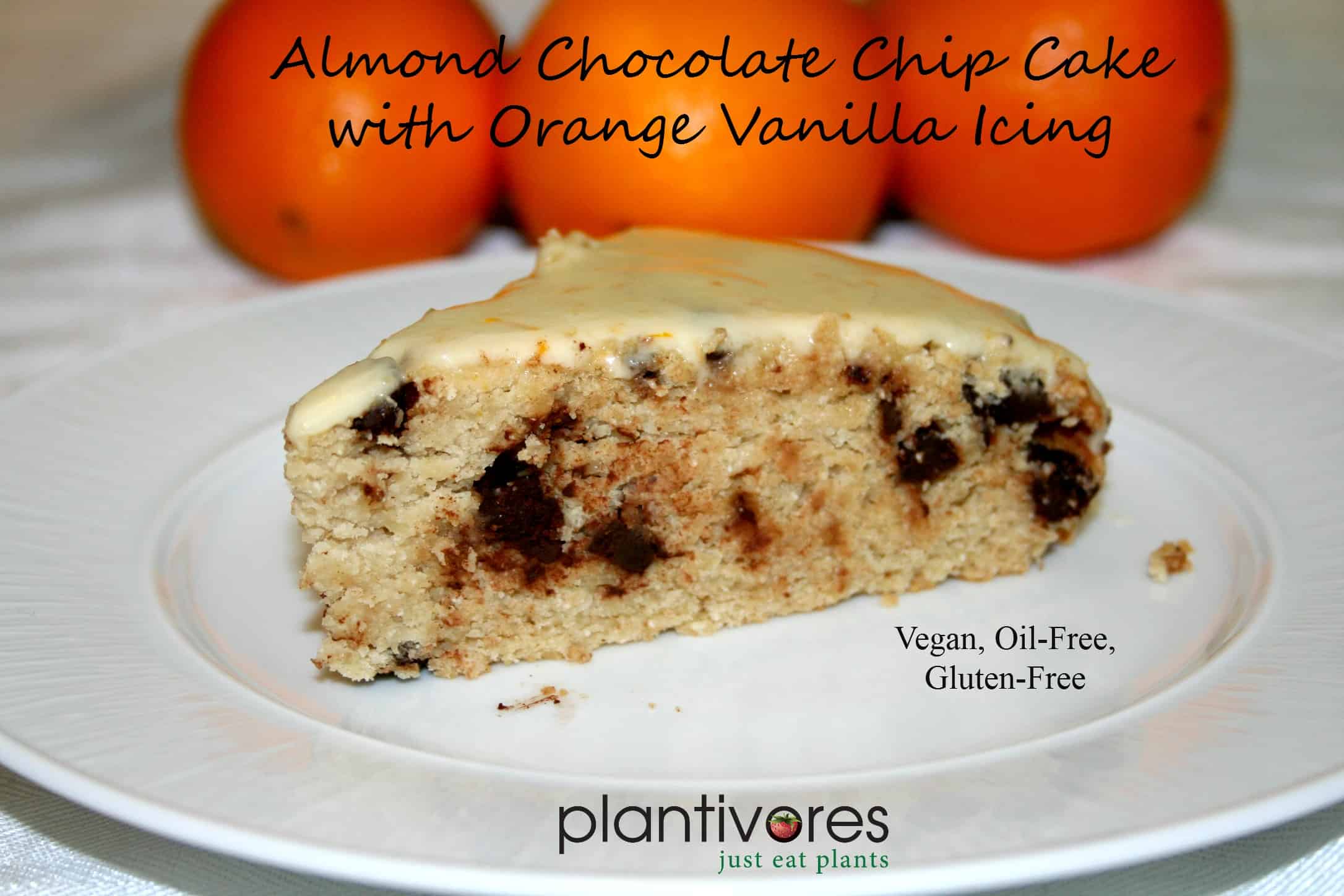 1 cup almond meal
2 ½ cups gluten-free flour mix (if you aren't gluten-free, use whole wheat pastry flour or white whole wheat flour)
¾ teaspoon sea salt
½ teaspoon xanthum gum (if not using gluten-free flour you can eliminate this)
2 ½ teaspoons baking powder
1 cup vegan sugar (I prefer less processed sugars like sucanat or coconut sugar or at the very worst, organic dried cane syrup)
1 medium-size ripe banana
1 ½ cups almond milk (I use unsweetened but this is flexible—you can use vanilla flavored or sweetened or soy milk instead)
2 teaspoons almond extract
1 cup vegan chocolate chips (new favorite: Trader Joe's semi-sweet chocolate chips—hubba hubba!)
1 orange
2 cups confectioner's sugar
2 teaspoons vanilla extract
Pre-heat oven to 350 degrees F.
In a large mixing bowl, mix together the dry ingredients: almond meal through sugar.
In a high-speed blender or regular blender mix the banana, milk and almond extract until smooth. A high-speed blender is preferred but if you don't have one you can mash the banana by hand and mix the wet ingredients by hand in a bowl.
Add the wet ingredients to the dry ingredients and mix by hand until just combined. Fold in the chocolate chips.
Add to a prepared 9" round cake pan. My preferred pan is a non-stick springform pan. I don't have to grease it because once the cake cools and you release the springform mechanism, it pops right out.
Bake for 30 minutes. A toothpick or cake tester should come out clean at this point.
Let the cake cool, then remove from the springform pan.
When it is completely cool, frost with the Orange Vanilla Icing.
Zest the orange into a medium mixing bowl using a zester.
Slice the orange in half at the equator (assuming the dimples are the north and south pole).
Juice both halves of the orange.
Add 2 tablespoons of the orange juice and the confectioner's sugar to the zest in the mixing bowl.
Using an electric hand mixer, beat the mixture until smooth and pasty, but still a tad loose. Add more orange juice if too dry, more confectioner's sugar if too loose.
Frost the cake immediately with a frosting spreader (or plain knife). When the frosting sits for a bit it forms a nice firm layer on the top, which is much nicer on the cake than in the bowl.
Recipe by
Plantivores
at http://plantivores.com/almond-chocolate-chip-cake/