Rocky Road Brownies (Vegan, Oil-Free, Gluten-Free)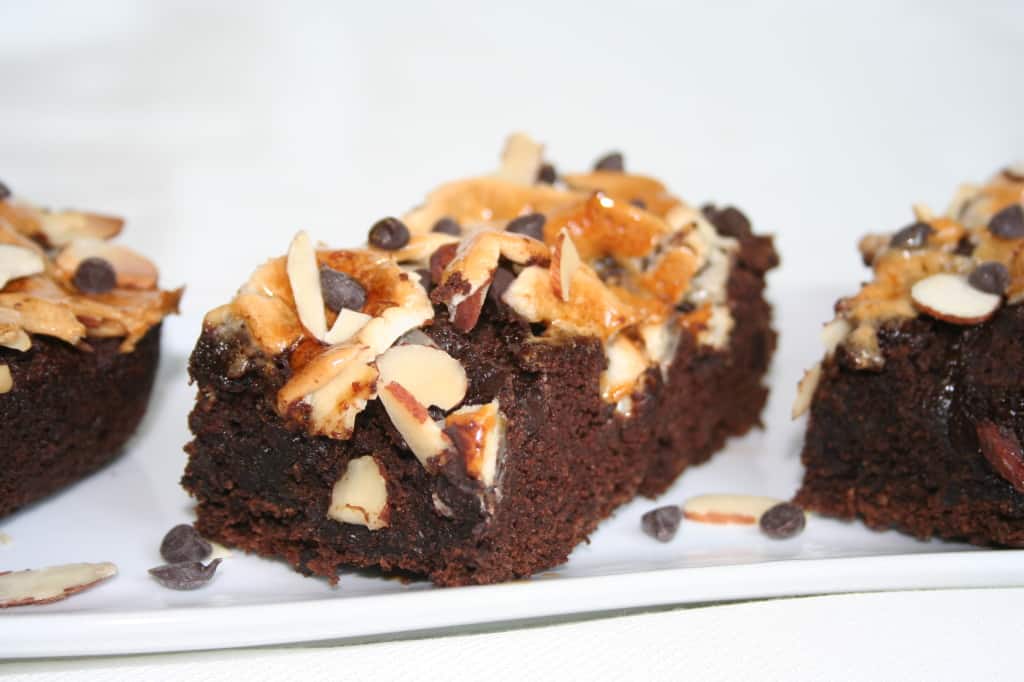 2/3 cup teff flour
2/3 cup oat flour (use certified gluten-free if necessary)
1/3 cup almond meal
1 cup vegan sugar (try something less refined like sucanat or coconut sugar)
½ teaspoon xanthum gum
¼ teaspoon salt
¼ cup organic cocoa powder
1/3 cup organic unsweetened applesauce
1 cup plant milk (I usually use almond milk)
1 tablespoon apple cider vinegar
1 teaspoon vanilla extract
½ cup vegan chocolate chips split into two equal batches
1/3 cup sliced raw almonds
2/3 cup small vegan marshmallows (or about 7 large marshmallows cut into small pieces)
Pre-heat oven to 350 degrees F.
In a large mixing bowl whisk together dry ingredients (teff flour through cocoa powder) until well combined and all lumps have been smoothed out.
In a medium bowl mix together all of the wet ingredients (applesauce through vanilla extract).
Add wet ingredients to the dry ingredients and mix until combined, but do not over mix.
Add in half of the chocolate chips (1/4 cup) and mix well.
Pour into a non-stick 8x8 pan (I use glass) and spread evenly. If you don't have a non-stick dish or pan you can spray a bit of non-stick spray on the pan.
Sprinkle remainder of chocolate chips, sliced almonds and marshmallows evenly on the top. This is the best part so have fun with this!
Bake for 55 minutes until set.
Recipe by
Plantivores
at http://plantivores.com/rocky-road-brownies-vegan-oil-free-gluten-free/