4-Ingredient Butternut Squash Bisque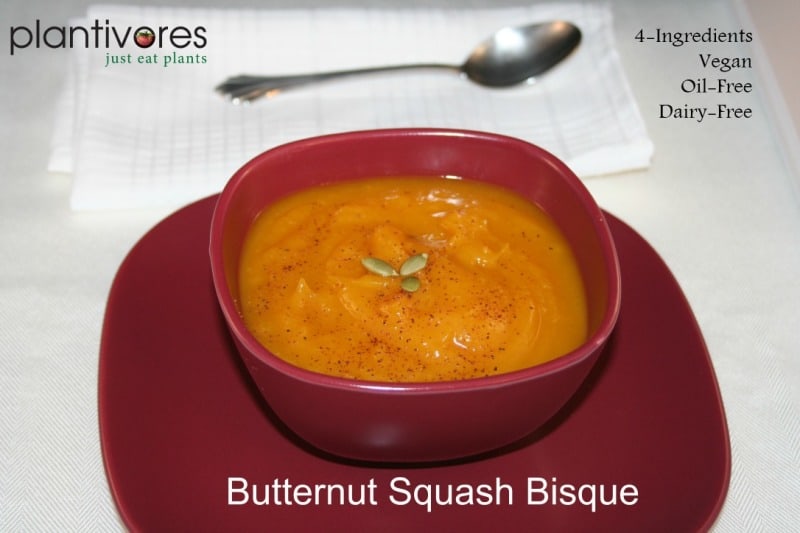 4 pounds butternut squash (2 medium-sized squash)
1 shallot finely diced
5 teaspoons fresh grated ginger
4 cups vegetable stock
Optional: 1 cup vegetable stock (if bisque is too thick)
Salt and pepper to taste
If using fresh squash: Slice them in half lengthwise, scoop out the seeds and place the halves face up on a non-stick baking sheet.
If using pre-cubed squash: Spread them on a non-stick baking sheet.
Roast squash at 425 degrees for 50-60 minutes until knife-tender.
Fresh squash: Let squash cool until you can handle them, scoop out the flesh with a spoon and discard the skin.
In a large pot, sauté the shallots and ginger in a little bit of vegetable stock for 2-3 minutes until fragrant.
Add the roasted squash and the rest of the 4 cups of vegetable stock to the pot and stir.
Simmer for 30 minutes on low heat stirring occasionally.
Using an immersion blender puree the bisque until smooth. If you don't have an immersion blender, carefully transfer the bisque to a blender and blend until smooth.
Transfer it back to the pot and add salt and pepper to taste.
If you prefer your bisque slightly thinner, add another ½ cup to 1 cup of vegetable stock and mix well.
Serve hot.
Serves 10-12 as an appetizer.
Serves 4-6 as a main course.
Recipe by
Plantivores
at http://plantivores.com/4-ingredient-butternut-squash-bisque/