Pumpkin Chocolate Chip Snickerdoodles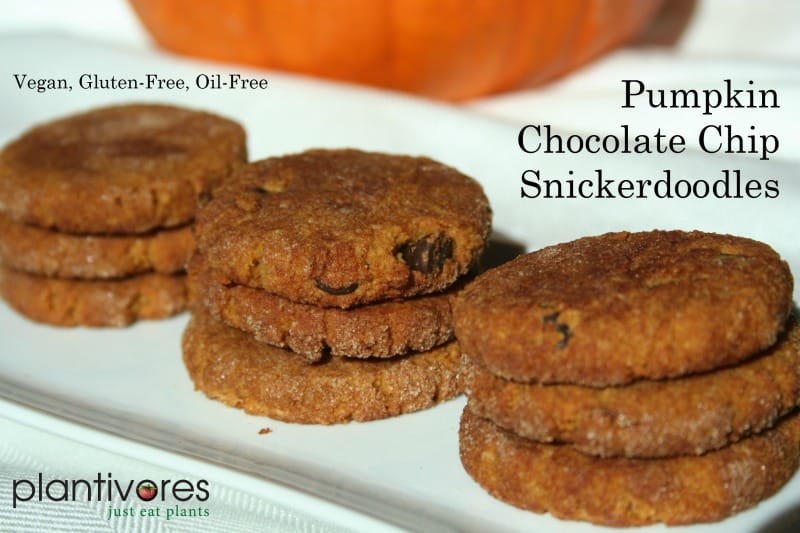 2 cups blanched almond flour
½ teaspoon cinnamon
¼ teaspoon salt
¼ teaspoon baking soda
½ cup fresh pumpkin puree
3 tablespoons organic unsweetened applesauce
3 tablespoons maple syrup
1 teaspoon vanilla
Optional: 1/3 cup vegan chocolate chips
2 tablespoons vegan sugar
1 teaspoon cinnamon
Preheat oven to 350 degrees.
In a medium bowl, whisk the almond meal, cinnamon, salt, and baking soda.
Mix the wet ingredients in a medium bowl.
Pour the wet mixture into the dry mixture and blend with a wooden spoon until everything is moistened.
Stir in the chocolate chips.
Mix your cinnamon sugar coating in a small bowl.
Roll the batter into 12-15 cookie balls, roughly golf ball size.
Roll each ball into the mixture, and place on a parchment lined cookie sheet. Press down with the back of a 1/3 cup measuring cup until they are of a uniform thickness.
Bake for 22-26 minutes until the bottoms are golden and the cookies are firm. There is a lot of moisture in these so that's why they take a little longer to cook than most cookies.
Cool on cookie sheet for 10 minutes, remove, and store in an airtight container.
Recipe by
Plantivores
at http://plantivores.com/pumpkin-chocolate-chip-snickerdoodles/