Pecan Pie (vegan, oil-free, gluten-free)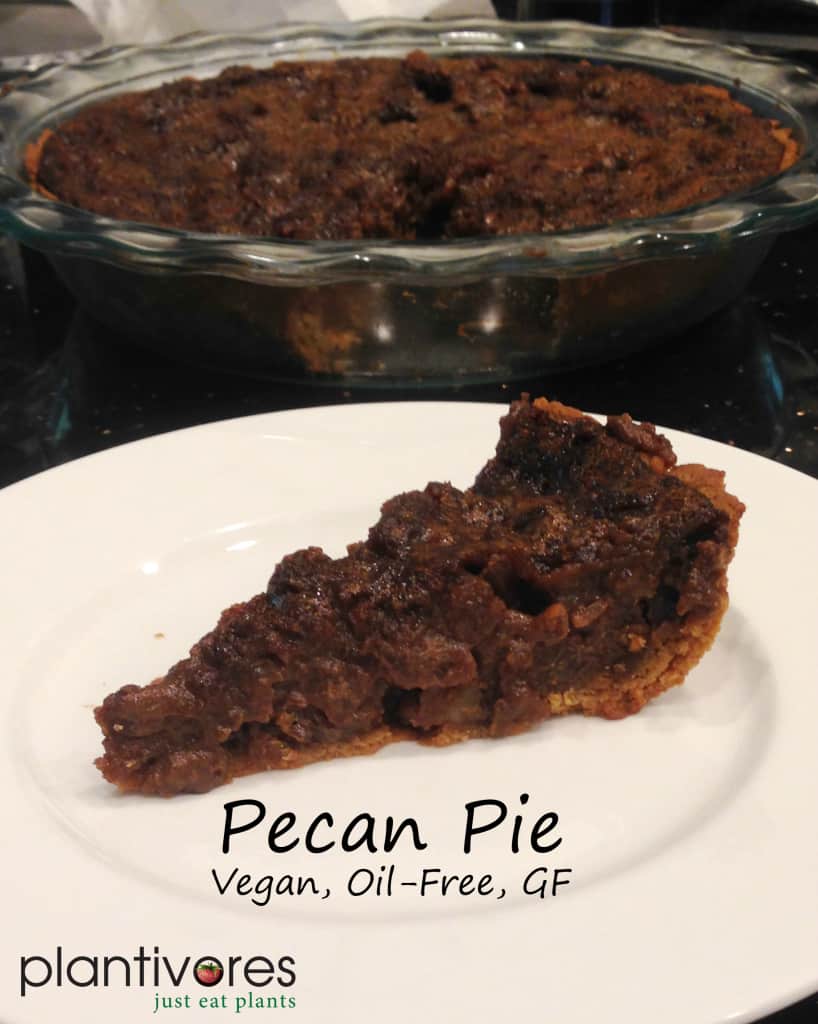 12.3 ounces firm or extra-firm silken tofu (1 package of Mori-Nu)
¼ cup cold almond milk + 1 tablespoon
1 teaspoon vanilla
½ teaspoon salt
½ cup vegan sugar
½ cup brown sugar (I use sucanat which is a less-processed substitute for brown sugar)
2 tablespoons non-GMO corn starch
½ cup + 2 tablespoons maple syrup
2 tablespoons black strap molasses
2 cups pecan halves
Vegan pie-crust (gluten-free if desired)
Prepare your pie crust per the instructions.
Preheat the oven to 350 degrees.
Crumble the tofu into a food processor or blender and add the milk, vanilla, and salt. Puree until smooth, scraping down the sides as needed.
In a small sauce pan heat the sugars, cornstarch, maple syrup and molasses over medium heat, stirring frequently with a whisk. You should see bubbles start forming. Once this happens stir constantly until it becomes thick and syrupy, which could happen as early as 5 minutes.
Do not overcook. If it begins boiling reduce the heat a bit. For me at 10 minutes I had a caramelization disaster where the whole concoction turned back into granulated sugars and I had to start over.
When the caramel is done, transfer it to a mixing bowl and add the tofu mixture while the caramel is still hot. Mix well.
Fold in the pecans and combine.
Transfer to the prepared pie crust and bake for 40 minutes or until the pie appears to be set. It might still be a bit wiggly.
Cool for a few hours before serving.
Recipe by
Plantivores
at http://plantivores.com/pecan-pie-vegan-oil-free-gluten-free/