Vegan Baked Ziti (Oil-free, Kid-friendly)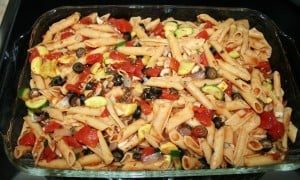 Recipe type:
Main Dish, Pasta
1 large yellow onion, peeled and diced
5 cloves garlic, peeled and minced
1 zucchini, sliced and quartered
1 yellow squash, sliced and quartered
1 cup baby bella mushrooms diced (can also use white or cremini mushrooms)
1 tablespoon dried oregano
1 tablespoon dried basil
Salt and pepper to taste
One 28-ounce can diced tomatoes
1 cup tomato sauce (either canned or jarred, whatever you have on hand)
1 small can of sliced black olives
1 pound whole-grain ziti (or gluten free penne)
1 batch of Cheezy Sauce
Bring a large pot of salted water to a boil.
Preheat the oven to 375 degrees F.
Add the onion to a large saucepan and cook, stirring frequently, until browned. Add small amounts of water as needed to keep the onion from sticking. Add the garlic, zucchini, squash and mushrooms and saute until the mushrooms begin to exude their juices
Add the oregano, basil, salt and pepper, diced tomatoes, tomato sauce and black olives and cook for 5 minutes over medium heat.
Cook the pasta in boiling water until it is not quite al dente as it will finish cooking in the oven (this is usually a minute or two less than the package cooking instructions would recommend).
Drain the pasta and add it to the tomato mixture. Mix well and pour into a 9x13" baking dish.
Top with the Cheezy Sauce and bake, uncovered, for 25 to 30 minutes, or until bubbly.
Recipe by
Plantivores
at http://plantivores.com/vegan-baked-ziti/