Moist Zucchini Carrot Bars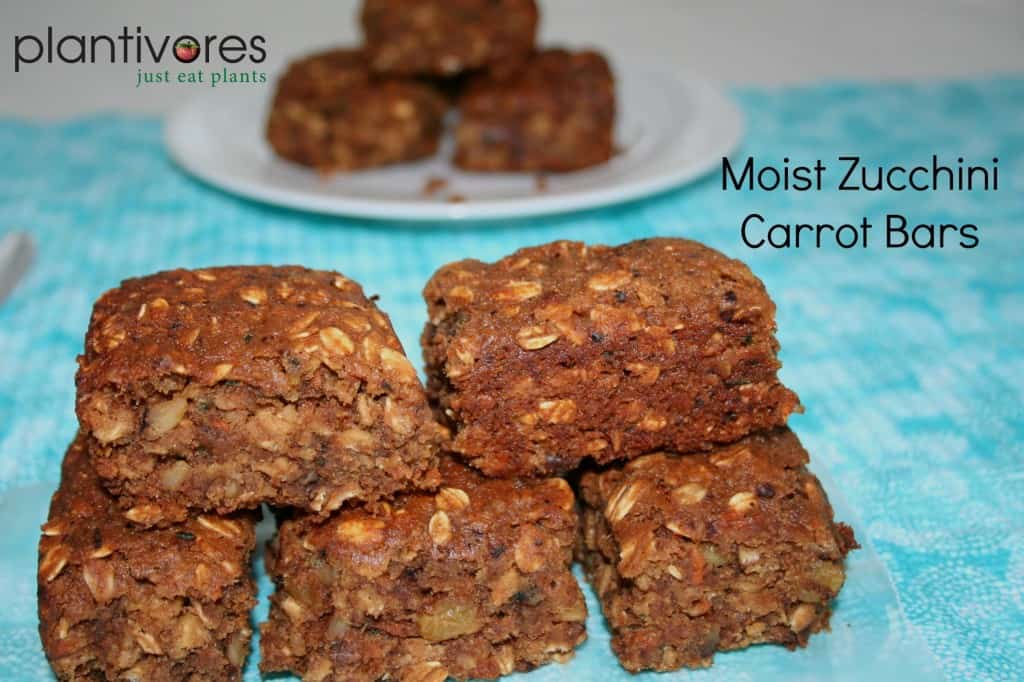 Recipe type:
Snack, Dessert
2 cups oat flour (grind your own using oats in a high-speed blender)
2 cups oats
1 cup sucanat (or other minimally processed sugar)
2 teaspoons baking soda
2 teaspoons baking powder
3 teaspoons cinnamon
1 teaspoon salt
2 cups organic, applesauce (with no added sugar)
2 teaspoons vanilla
1 cup shredded carrots
1 cup shredded zucchini
½ cup maple syrup
½ cup raisins
½ cup chopped walnuts
Pre-heat the oven to 350 degrees.
Mix together the dry ingredients in a large bowl until combined.
In a medium bowl mix together the applesauce, vanilla, carrots/zucchini and maple syrup until well combined. Then add in the raisins and walnuts and stir until combined.
Add the wet mixture to the dry mixture and mix until just combined.
Pour the batter into a 9x13 baking dish lined with parchment.
These took 65 minutes to bake here in Denver at altitude. I find that things take slightly longer to bake here than most recipes call for. If you don't live at a high altitude, start checking for doneness at 45-50 minutes. These are done when the top is firm, slightly browned and a toothpick inserted in the middle comes out clean.
These take a while as they have a lot of wet ingredients and remain very moist after cooking.
Cool the pan on a wire rack and then cut into squares or rectangles. Makes approximately 20 bars.
These bars will last in an air tight container in the refrigerator for 4-5 days or in the freezer for a few months.
To make gluten-free, use gluten-free oats.
If you don't want to use both carrots and zucchini, you can use either 2 cups shredded carrots OR 2 cups shredded zucchini.
You can substitute chopped pecans for the walnuts or leave out the nuts altogether.
Recipe by
Plantivores
at http://plantivores.com/moist-zucchini-carrot-bars/