Gluten-Free Vegan Matzo 4 Ways (Oil-Free)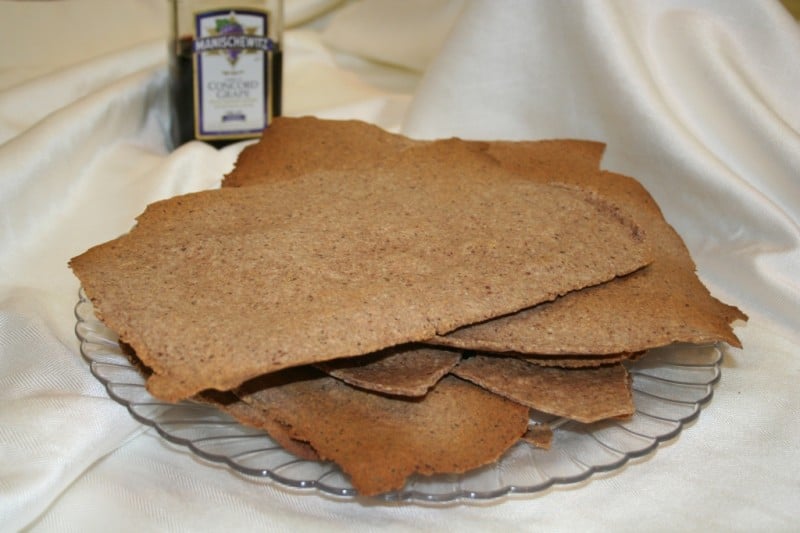 1/3 cup teff flour
1/3 cup potato starch
2/3 cup almond meal
2 tablespoons flax meal
7 tablespoons warm water
A dash of salt
Preheat the oven to 450 degrees F
Cover a baking sheet with non-stick tinfoil or parchment paper.
Mix the flax meal and water in a small bowl and let sit for a few minutes.
In a medium-sized bowl, mix the flour (quinoa, teff and/or potato starch), almond meal and salt.
Add the flax mixture to the dry mixture and stir until just combined. You might need to use your hands to get it completely mixed. It should be doughy and might seem a bit dry but as long as it sticks together when you knead it, it will work.
Put the dough on the baking sheet and cover with a big piece of plastic wrap. (This will save you time on clean-up as well as avoid the need to sprinkle flour on top to keep the rolling pin from sticking).
Take a rolling pin and roll the dough over the plastic wrap until it is as flat as you can get it. You can roll it into a circular shape or more of a square shape.
Remove the plastic wrap.
Use a fork to prick holes in the dough like "real" matzoh. This isn't just for looks--it helps ensure that you don't get air bubbles during baking.
Bake for 10 minutes. Watch carefully to ensure it doesn't burn.
Carefully pick up the matzo (this is easiest with your hands) and flip it over.
Bake for another 4 minutes.
It is done when the edges are slightly brown.
Let it cool and store in a zippered storage bag. Do not store them in the refrigerator as they will lose their crunch and become doughy.
You can make this using individual flours. So 2/3 cup of quinoa flour OR 2/3 cup teff flour OR 2/3 cup potato starch in addition to the almond meal.
If using potato starch alone, add one extra tablespoon. Note that the potato starch version on its own may be slightly more wet than the other flours. You can add more potato starch if necessary.
You can combine the quinoa, teff and potato starch in any combination as long as you maintain the ratio of a total of 2/3 cup of these and 2/3 cup almond meal.
Recipe by
Plantivores
at http://plantivores.com/gluten-free-vegan-matzo-4-ways-oil-free/