Passover Granola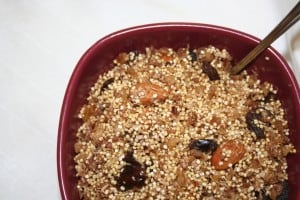 2 1/2 cups matzo farfel (make gluten-free by using gluten-free matzo)
1 cup quinoa (raw)
1 cup millet (raw, not flour)
1 cup shredded, unsweetened coconut
1 cup chopped pecans
1/2 cup chopped walnuts
1/2 cup whole almonds
1 teaspoon cinnamon
1/2 teaspoon salt
3 teaspoons vanilla
1/2 cup maple syrup or agave
1 cup unsweetened, organic applesauce
1 cup raisins
1 cup dates
Preheat oven to 350 degrees.
Line a baking sheet with parchment or non-stick aluminum foil.
Combine farfel, quinoa, millet, coconut, nuts, cinnamon and salt in a large bowl.
In a medium mixing bowl combine vanilla, maple or agave and applesauce.
Add the wet mixture to the dry mixture and mix well. Make sure everything is coated evenly.
Spread mixture evenly on the baking sheet.
Bake for 20-25 minutes, stirring every 8-10 minutes until golden brown. It burns easily so watch carefully.
Transfer granola to a large bowl and use a spatula to break up the big clumps.
Stir in the raisins and dates.
Cool thoroughly.
It will keep in an airtight container in the refrigerator for at least one week (if you don't eat it before then).