Peanut Butter Chocolate Chip Cookies (GF, Oil-free)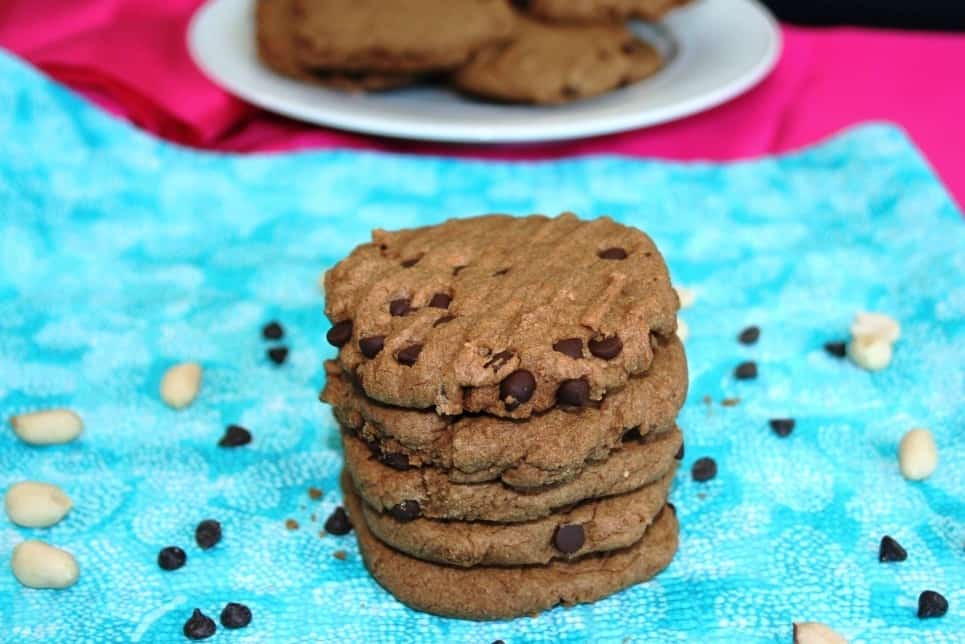 1 1⁄2 cups teff flour
1/8 - 1⁄4 teaspoon sea salt
1 teaspoon baking soda
1 cup peanut butter (smooth or chunky, preferably organic with no added oil, salt or sugar)
1 cup maple syrup
1⁄2 cup vegan or dairy-free chocolate chips
Preheat oven to 350°F.
In a large mixing bowl combine teff flour, salt and baking soda.
In a medium mixing bowl combine peanut butter and maple syrup.
Pour wet ingredients over dry and blend until just combined.
Fold in chocolate chips.
Line a cookie sheet with parchment paper.
Drop batter by heaping teaspoons onto cookie sheet.
Leave cookies free-form or press down dough with tines of fork in crisscross pattern.
Bake for 13 minutes or until just lightly browned. Do not over bake them or it changes the texture.
Remove from oven and place on wire rack to cool.
Beware, when using organic peanut butter without added oils, the peanut butter from the bottom of the jar tends to be much harder to stir and you won't get it to mix with the maple syrup as easily. I recommend using the peanut butter from the top or middle.
Recipe by
Plantivores
at http://plantivores.com/peanut-butter-chocolate-chip-cookies-gf-oil-free/