Vegan Brownies (Gluten-free, Oil-free)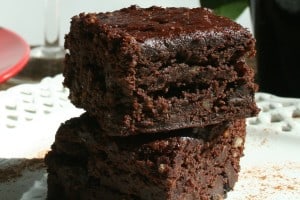 Cuisine:
Gluten-free, Oil-free
1 cup unsweetened organic applesauce
16 pitted medjool dates, quartered
2 medium ripe bananas (the riper the bananas, the sweeter this will be)
1 cup pure maple syrup
2 tsp vanilla extract
1 cup brown teff flour
1 cup almond meal (if you don't have almond meal you can grind almonds in your food processor)
1 tsp xanthum gum
1 cup cocoa powder
1 tsp cinnamon
4 tsp baking powder
1 tsp baking soda
1/2 tsp kosher salt
2/3 cup chopped walnuts
1 cup vegan chocolate chips
Preheat oven to 350 degrees F and prepare an 8" x 8" pan. We used a metal non-stick pan that required no preparation. Otherwise use parchment or a small amount of non-stick spray to prevent the brownies from sticking to the pan.
In a high-speed blender or food processor, blend the applesauce, dates, bananas, maple syrup, and vanilla until they are smooth.
In a large mixing bowl, whisk the teff flour, almond meal, xanthum gum, cocoa powder, cinnamon, baking powder, baking soda, and salt.
Add the wet mixture to the dry ingredients and mix until just combined. Fold in the walnuts and chocolate chips, being careful not to over mix the batter. The batter will be fairly thick.
Pour the batter into your pan and smooth it out until it is spread evenly.
Bake for 25-35 minutes or until a toothpick comes out clean. These kept in our refrigerator for 5 days. And it's amazing we didn't eat them all before that!
Makes about 16 brownies.
Recipe by
Plantivores
at http://plantivores.com/vegan-brownies-gluten-free-oil-free/