Cherry Pecan Trail Mix Cookie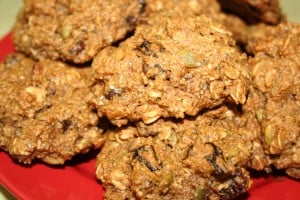 2 cups oat flour (make your own by grinding up whole or rolled oats in a high-speed blender)
3/4 cup oats
1 teaspoon cinnamon
2 tablespoons chia seeds
1 teaspoon baking soda
¾ teaspoon sea salt
2 cups chopped pecans
1 ripe banana
1 tablespoon vanilla
½ cup maple syrup
1/3 cup brown rice syrup
¼ cup pepitas (or sunflower seeds)
1/3 cup dried cherries, oil-free and sugar-free. (If you can't find them you can sub this amount of raisins instead)
1/3 cup raisins
1/3 cup dairy-free or vegan chocolate chips
Pre-heat oven to 325 degrees.
Spread chopped pecans on a non-stick cookie sheet (or line one with parchment) and bake for 8-10 minutes. Watch them closely so they don't burn.
Remove from oven and let cool.
Increase oven temperature to 350 degrees.
Mix all dry ingredients in a large mixing bowl until well-combined (including the toasted pecans).
Combine all wet ingredients in a medium mixing bowl until smooth.
Add wet ingredients to dry ingredients and stir until just combined.
Fold in add-ins.
Drop by rounded spoonfuls onto a non-stick cookie sheet(s).
Bake for 25-30 until firm.
Makes approximately 24 cookies
--These are especially delicious when still slightly warm from the oven.
--These store well in an airtight container in the refrigerator for a few days or in the freezer for several months.
--If you are eating them from the refrigerator or freezer, pop them in the microwave for 10-15 seconds on each side or until just warmed and enjoy!
Recipe by
Plantivores
at http://plantivores.com/cherry-pecan-trail-mix-cookie/