Chickpea and Eggplant Curry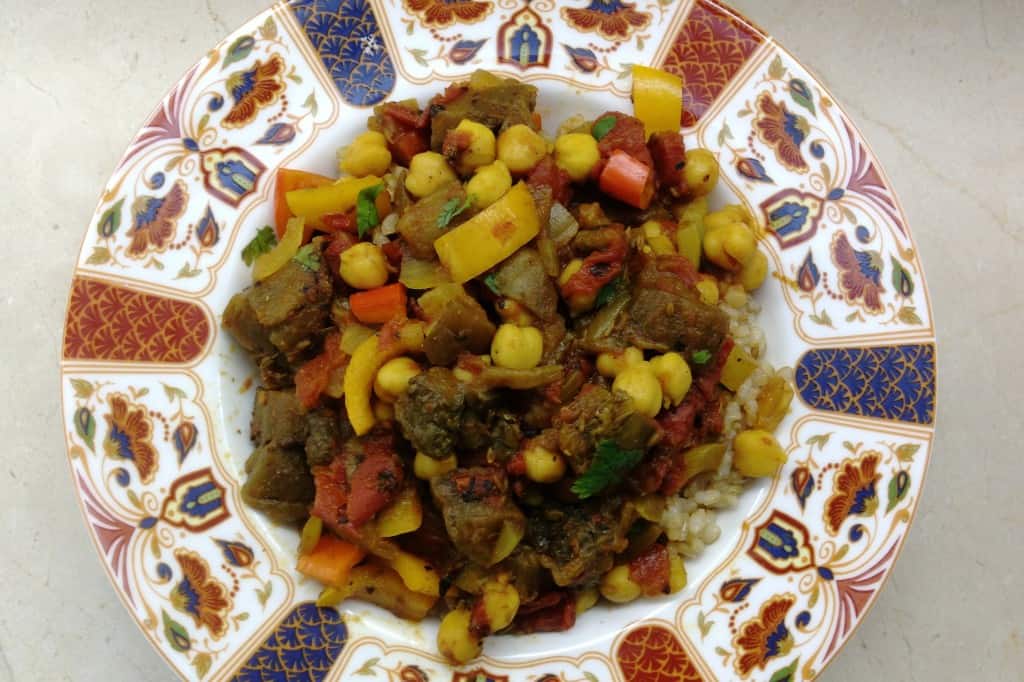 2 large eggplants
1 medium onion (chopped)
1 red bell pepper (seeded and diced)
2 teaspoons cumin seeds
1 1/2 teaspoon ground coriander
1 teaspoon turmeric
1/8 teaspoon asafetida (or 1 clove garlic, pressed)
2 14 oz cans fire roasted diced tomatoes
4 teaspoons ginger paste or minced ginger root (or 2 tsp powdered ginger)
1/2 teaspoon cayenne pepper (adjust slightly more or less to taste)
2 15 oz cans cooked garbanzo beans (chickpeas) (rinsed and drained; or 3 cups cooked)
1/2 cup water
1/2 cup cilantro or parsley (minced)
1/4 teaspoon garam masala (add more to taste)
Preheat oven to 400F. Puncture the eggplant with a knife several times and place on a non-stick baking sheet. Bake for 40-45 minutes, until eggplant is sunken and soft all the way through. Remove from oven. When cool enough to handle, remove the peels and chop the eggplant flesh.
Heat a large non-stick skillet and add 2 Tbsp of water. Add the onion and cook until it begins to turn translucent. Add the bell pepper and cook for a few more minutes. Clear a spot in the center of the skillet and sprinkle the cumin seeds directly on the hot surface. Stir and toast them for about a minute, until they become fragrant. Mix together the seeds, onions and peppers and add the coriander, turmeric, asafetida (or garlic), tomatoes, ginger, and cayenne pepper. Mix together well, then add the eggplant and cook over medium heat for about 10 minutes. Use the back of a wooden spoon to break up the large pieces of eggplant.
Add the chickpeas and enough water to keep everything moist, cover tightly, and turn the heat to low. Cook for at least 15 minutes, stirring periodically, until the sauce has thickened and flavors have melded together.
This is delicious with basmati rice or raisin rice pilaf.
While the cooking time on this seems long, if you roast the eggplant ahead of time or earlier in the day, the actual prep/cooking time of the recipe isn't overwhelming and the dish comes together quickly.
Recipe by
Plantivores
at http://plantivores.com/chickpea-and-eggplant-curry-oil-free/