Cinnamon Cherry Oil-Free Granola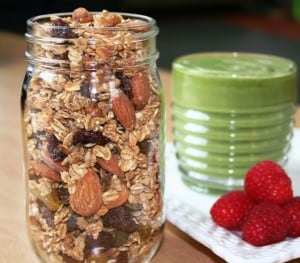 Recipe type:
Breakfast, Snack
8 cups oats (use certified gluten-free oats for a gluten-free version)
1 cup millet
½ cup shredded coconut
½ cup whole almonds
½ cup chopped walnuts
½ cup chopped pecans
2 tablespoons cinnamon
½ cup brown rice syrup
1 cup unsweetened apple juice
½ cup maple syrup
1 ½ cups dried unsweetened, oil-free cherries
1 cup golden raisins
Pre-heat oven to 325 degrees.
Prepare two baking sheets with parchment paper or non-stick aluminum foil.
In a large mixing bowl combine the oats, millet, coconut, cinnamon and nuts.
In a small mixing bowl mix together the brown rice syrup, apple juice and maple syrup.
Pour the wet mixture into the dry mixture and stir carefully until everything is coated.
Scoop onto the baking sheets and bake for 30 minutes, stirring every 10 minutes to avoid burning.
Remove from the oven and cool for 15-20 minutes. Pour back into large mixing bowl and add in cherries and raisins. Stir gently to combine.
Store in an airtight container. Will last for several weeks like this in the refrigerator (though ours NEVER makes it that long).
Feel free to cut the recipe in half if you don't want/need quite so much granola on hand. We go through it so quickly that we make this in large quantities.
Recipe by
Plantivores
at http://plantivores.com/cinnamon-cherry-oil-free-granola/